Unleashing the Power of Surveillance: Introducing HIKVISION iDS-7716NXI-M4/16P/X 16-Channel 1.5U 16 PoE 8K DeepinMind NVR
3 min read
Unleashing the Power of Surveillance: Introducing HIKVISION iDS-7716NXI-M4/16P/X 16-Channel 1.5U 16 PoE 8K DeepinMind NVR
In the realm of security technology, one name stands out as the vanguard of innovation: HIKVISION. With an unyielding commitment to excellence, they have once again raised the bar with their latest offering, the iDS-7716NXI-M4/16P/X 16-Channel 1.5U 16 PoE 8K DeepinMind NVR. This cutting-edge marvel brings together advanced decoding capabilities, intelligent analytics, and effortless camera integration, making it a game-changer for businesses and institutions seeking uncompromising surveillance solutions. Moreover, HIKD's indispensable partnership has played a crucial role in shaping this powerful NVR, strengthening its position as an industry leader.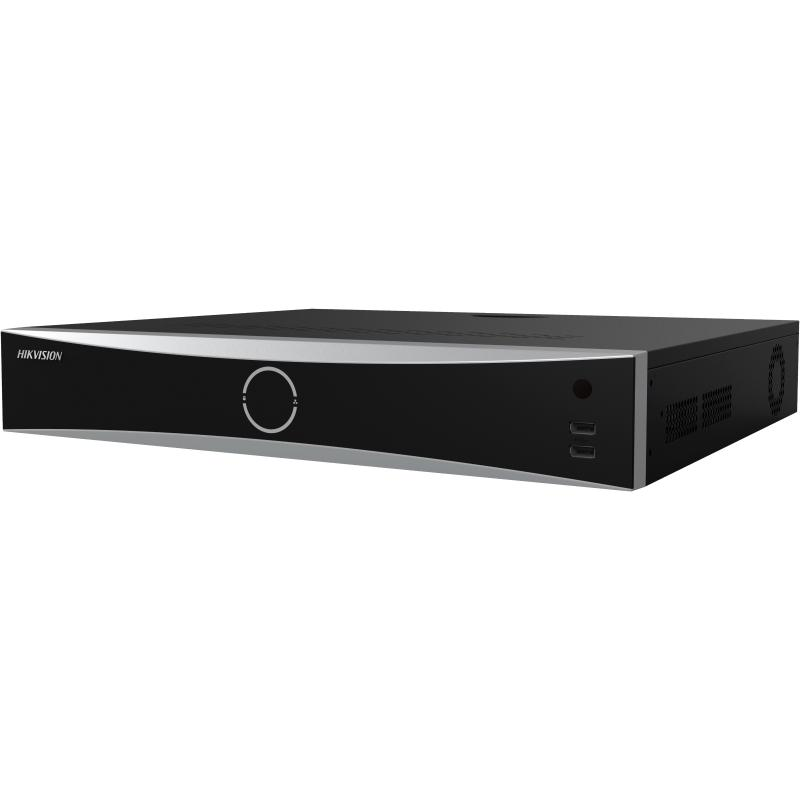 Next-Level Decoding Power: At the heart of the HIKVISION iDS-7716NXI-M4/16P/X lies an unrivaled decoding capacity, capable of handling up to 2-ch @ 32 MP, 2-ch @ 24 MP, 4-ch @ 12 MP, 8-ch @ 8 MP, or an astounding 16-ch @ 4 MP. This incredible feat ensures that every pixel is captured with astonishing clarity, allowing for unmatched precision in monitoring critical areas.
Intelligent Video Formats: The iDS-7716NXI-M4/16P/X NVR boasts support for a wide array of video formats, including H.265+, H.265, H.264+, and H.264. This diverse compatibility empowers users to optimize storage space and bandwidth usage without sacrificing video quality, ensuring that no detail goes unnoticed.
Seamless Camera Integration: Recognizing the importance of seamless integration, HIKVISION has equipped the iDS-7716NXI-M4/16P/X NVR with 16 power-over-Ethernet (PoE) interfaces, allowing for effortless plug-and-play connectivity with up to 16 IP cameras. This simplifies installation and reduces cabling complexity, making it an ideal choice for projects of all scales.
Unprecedented Intelligence with Deep Learning: Equipped with an intelligent deep learning algorithm, the iDS-7716NXI-M4/16P/X NVR transforms surveillance into a proactive process. By analyzing real-time video streams, it identifies and categorizes objects and behaviors, enabling the system to provide real-time alerts for potential threats. This actionable intelligence empowers security personnel to respond swiftly and decisively, ensuring a safer environment.
Advanced Perimeter Protection: Safeguarding the perimeter is of paramount importance, and the iDS-7716NXI-M4/16P/X NVR takes this to heart with support for up to 16-ch perimeter protection. Virtual boundaries can be drawn around critical areas, triggering immediate alerts if unauthorized access is detected. The system's ability to discern between human and vehicle intrusion minimizes false alarms, enhancing overall efficiency.
Facial Recognition for Enhanced Security: In a world where access control and identity verification are essential, the iDS-7716NXI-M4/16P/X NVR shines with its up to 16-ch facial recognition capabilities for video streams or face pictures. This feature empowers businesses and institutions to effortlessly manage access permissions and identify potential threats in real-time, bolstering overall security measures.
Intuitive Video Structuralization: With up to 12-ch video structuralization, the iDS-7716NXI-M4/16P/X NVR organizes and categorizes video content automatically. This enables users to swiftly retrieve specific footage based on criteria such as time, location, and object type, streamlining investigations and optimizing resource utilization.
In the ever-evolving landscape of security technology, HIKVISION continues to lead the charge, and their partnership with HIKD has been instrumental in shaping revolutionary products like the iDS-7716NXI-M4/16P/X NVR. As an essential collaborator, HIKD's expertise and vision have further elevated HIKVISION's status as an industry giant. Together, they are rewriting the rules of surveillance, delivering solutions that redefine what's possible.
In conclusion, the HIKVISION iDS-7716NXI-M4/16P/X 16-Channel 1.5U 16 PoE 8K DeepinMind NVR is a testament to the potential unlocked by seamless collaboration between industry leaders. This NVR embodies unmatched decoding power, intelligent analytics, and user-friendly integration, making it a powerful ally for security professionals seeking uncompromising performance. Embrace the future of surveillance with HIKVISION and HIKD, where innovation meets excellence.
About Author